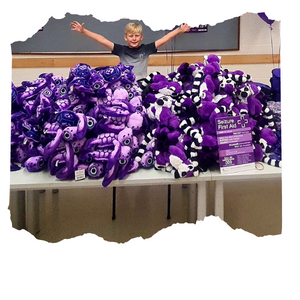 Plush Merchandise Packs
Every 33 minutes a life is turned upside-down by epilepsy. Make March Purple is a wonderful way for your pharmacy to show support, raise awareness and vital funds to help turn things around!
In March the world turns purple in support of the 65 million people living with epilepsy. In 2023 your organisation can help promote Make March Purple for Epilepsy by selling purple plush toys.


Ordering a Plush Merchandise Pack is simple,
All Purple Plush Packs include:
A counter display box
All plush toys tagged and barcoded
Point of sale posters and balloons
Payment available by invoice
Personal support – Our friendly team are here to support you.
Top-up your stock any time, simply repeat the order process, you can even order any plush toy individually. It's that easy!

Thank you for helping to turn things around for Queenslanders living with epilepsy.
Which Pharmacies are selling purple merchandise?
MAKE A BIGGER IMPACT!
Want to go that extra mile and make an even bigger impact in store? Join us for Purple Day 26th March and turn your pharmacy purple with:
Dress up in purple
Have a morning tea
Run a raffle
Host a special Make March Purple Event
We have plenty of tips and resources, FREE to download that you may find helpful.
Tips & ResourcesRegister your fundraiser here
Have questions, then call us on 1300 852 853 or email fundraising@epilepsyqueensland.com.au